NYSEDC Executive Director Regarding SBA Declaration for NYS
We have received the following information we would like to share with you from the SBA:
SBA Administrator Jovita Carranza has approved a statewide disaster declaration for NY. Eligible small businesses may now apply for SBA Economic Injury Disaster Loans (EIDL) online at
https://disasterloan.sba.gov/ela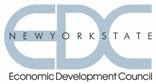 Please review the fact sheet with important information about the declaration and EIDL requirements at this link:  https://disasterloan.sba.gov/ela/Declarations/DeclarationDetails?declNumber=6063499&direct=false
Businesses can take advantage of free assistance offered by SBA's network of Resource Partners for help with preparing their loan applications. They may visit www.sba.gov/local-assistance to find local help.
The NYS Small Business Development Center network recommends submitting a request for assistance online at http://nyssbdc.org/appointment.html.
Once again, please do not hesitate to reach out if you have any questions or would like more information. Stay safe and stay healthy.
Ryan M. Silva
Executive Director
New York State Economic Development Council
« View all posts